A STORIED HISTORY OF NEW ORLEANS STEWARDS AND STORYTELLERS
Longway is a tavern that still views New Orleans' French Quarter as a neighborhood. We are a third place for everyone living, working, and playing in the French Quarter--a casual spot with an open-air courtyard where you can grab a bite and a beer before heading off to other destinations, have dinner, or to savor a nightcap when the party is winding down. Our food offers creative twists on nostalgic tavern fare, while Liam Deegan's cocktails give the same treatment to the French Quarter classics that we all grew up drinking.
In the early 20th Century, 719 Toulouse was the home of Roark and Mary Rose Bradford. As both were writers who napped throughout the day and wrote at night, their home was an all night, every night open house. When winding up a night on the town, friends would ring the bell of 719 Toulouse where Mary Rose appeared with grits, bacon, eggs and coffee for any or all. She was never ungracious toward those who took the long way home. Mary Rose found them to be kindred spirits. Longway Tavern continues to honor their tradition of hospitality today. Happy Hour is daily from 4-7pm and offers $5 Sidecars, Daiquiris, Moscow Mules, select glasses of house wine and $20 bottles of happy hour wines.
LOCATION
719 Toulouse Street
New Orleans, LA 70130
HOURS
Bar & Kitchen
Mon-Thu 4p-11p
Fri/Sat 1130a-12a
Sun 1130a–11p
Happy Hour
4p–7p Daily
PHONE
(504) 962-9696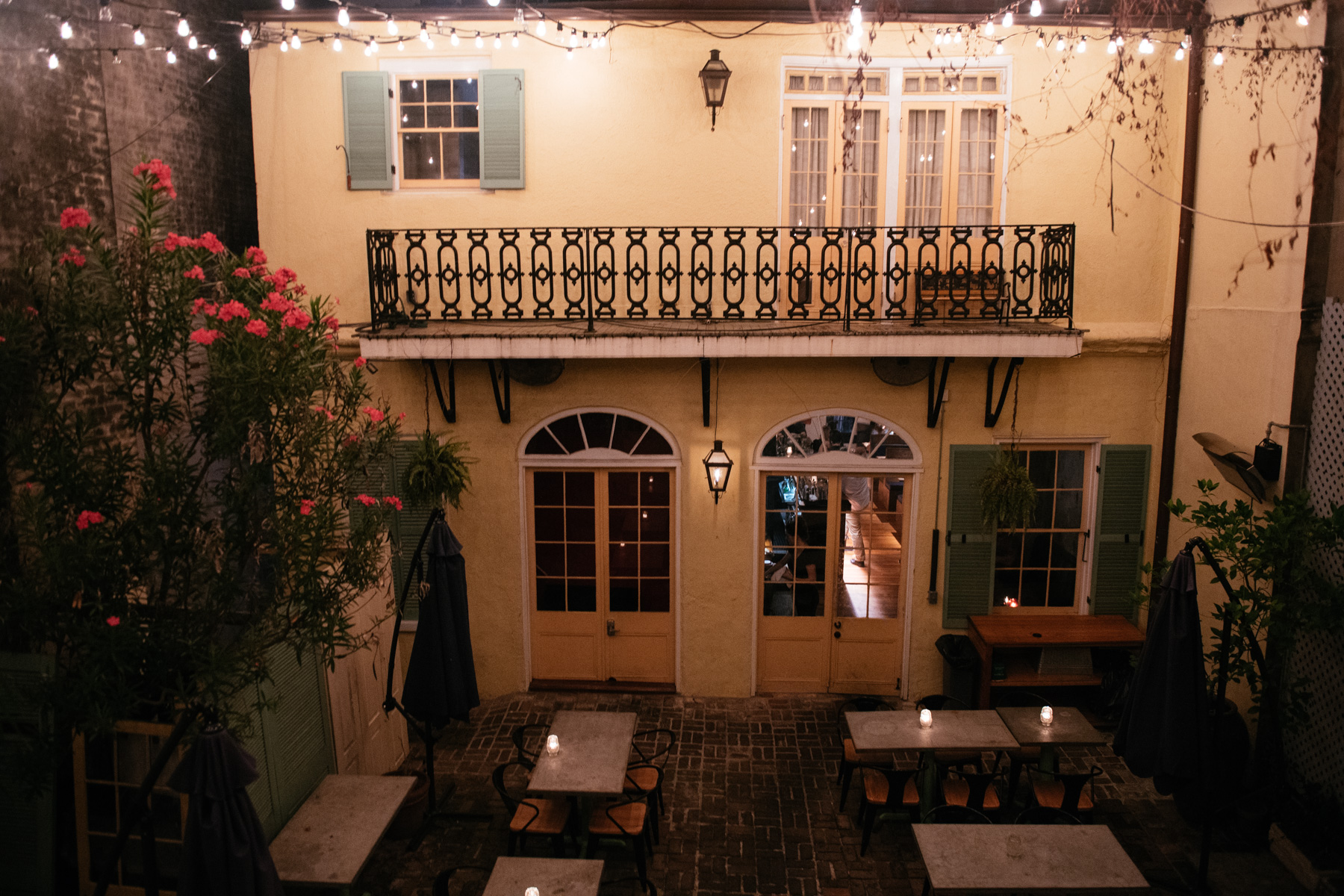 LIAM DEEGAN
Liam Deegan grew up in an Irish Catholic family in Providence, Rhode Island. While he went to school for photography, Deegan quickly realized that he was more passionate about his side job as a bartender. Deegan began studying for his Cicerone certification, which he earned in 2008. After moving to New Orleans, Deegan gained a position as a food runner at the popular French Quarter restaurant Sylvain shortly after it opened in 2010. He eventually earned a spot behind the bar, and from there moved up to Bar Director at Sylvain. When the owners of Sylvain opened the whiskey-centric Barrel Proof in 2014, 27-year-old Deegan led the project as its Managing Partner. At Barrel Proof, Deegan has curated an extensive and unique list of 250-260 whiskies from around the world, including hard-to-find Japanese whiskies. Longway Tavern will be the latest expression of the things Liam likes to drink: the classics that we all grew up drinking in the French Quarter. Liam longs for bars and restaurants where people can go to either eat or drink well, but would feel obligated to do neither. Places that are well designed, yet comfortable and fun with a bit of edge. Most simply stated, Liam relishes the types of places that make everyone feel at home.
CESAR NUNEZ
The son of an Irish Italian mother and a Honduran father, Cesar Nunez was born and raised in New Orleans, Louisiana, where family cooking and sharing meals were a significant part of his decision to pursue a career in the hospitality industry. He brings over thirteen years of culinary experience to Longway Tavern, including working alongside accomplished chefs, traveling across Europe, and attending culinary school. Nunez got his start working at New Orleans' Gautreau's under Chef Sue Zemanick, where he learned first-hand what it's like to work in a professional kitchen, including the ins and outs of cooking with locally sourced seafood and produce. Later, Nunez gained experience while working under Chef Adolfo Garcia at La Boca; his experience there led to him serving as Tournant at every one of Chef Adolfo Garcia restaurants while finishing Delgado Community College's Culinary Arts Program. Following completion of the culinary arts program, Nunez took his knowledge and skills overseas, and traveled across Europe for over three months to fully experience European cuisine among the locals. When he returned to New Orleans, he worked on the line at Coquette before being promoted to Chef de Cuisine, where he adopted many of the skills and cooking techniques he employs today. Declaring his cooking style as modern comfort food, Nunez strives to cook familiar food in unexpected ways. As executive chef at Longway Tavern, Chef Cesar Nunez uses cooking techniques that spotlight vegetables, seafood and seasonal ingredients, with a goal of transforming the way people think about traditional bar food.
Walk-ins are welcome at any time. We have an excellent bar for waiting and serve the full menu at the bar. This seating is on a first come, first served basis.